Products - Fast Roping/Rappelling Gloves

bio531-CBS Descending Gloves for Rescue Crews
bio531-CBS Descending Gloves for Rescue Crews
Suggested retail price 6,000YEN
 → 
Selling price $
39.50
■Color: Black
■Size: [Overall length] × [Middle finger] × [Perimeter of palm]
XS / 200mm × 78mm × 175~185mm
S / 210mm × 82mm × 190~200mm
M / 220mm × 86mm × 210~220mm
L / 230mm × 90mm × 225~235mm
XL / 240mm × 94mm × 240~250mm
XXL / 250mm × 98mm × 255~265mm
■Material:


Glove main part: Silicone-tanned cow leather
Wrist: Moisture-absorbing quick-dry pile-knit rubber, 35 mm wide

Heat-shield/cut-resistant material: Aramid knit



<Precautions for Use>
This product is developed exclusively for fast roping and rappelling.
Please do not use it for other purposes.
Since natural leather is partially used, thickness and hardness are not consistent.
Cracks and abrasion gradually develop after use. Early replacement with new gloves is recommended to ensure safety.
If you use or leave the product wet for a long time, it may accelerate the product's quality deterioration. Please use the product dry as much as possible. If the product gets wet in bad weather or in marine operations, dry it in the shade as soon as possible after use.
While we make every effort to provide safe and durable products, we will not be liable to you for any damage arising out of the use or inability to use the product.
Please carefully check if there is any damage to the product before use.
bio531 Fast Roping/Rappelling Gloves
Suggested retail price 5,700YEN
 →  Selling price

3,990

YEN(without tax)

(Price including tax 4,389YEN)
<Precautions for Use>
This product is developed exclusively for fast roping and rappelling.
Please do not use it for other purposes.
Since natural leather is partially used, thickness and hardness are not consistent.
Cracks and abrasion gradually develop after use. Early replacement with new gloves is recommended to ensure safety.
If you use or leave the product wet for a long time, it may accelerate the product's quality deterioration. Please use the product dry as much as possible. If the product gets wet in bad weather or in marine operations, dry it in the shade as soon as possible after use.
While we make every effort to provide safe and durable products, we will not be liable to you for any damage arising out of the use or inability to use the product.
Please carefully check if there is any damage to the product before use.





Chrome-free and highly stretchy cowhide used for the body of the product. A strong cowhide patch applied to the palm reduces friction heat.

For the base material, soft, stretchy white chrome-free cowhide (0.7 mm) is used.
For the reinforcement on the palm, friction-resistant yellow cowhide (0.8 to 0.9 mm), which provides a superb fit, is used. Operability is significantly enhanced via our patented manufacturing process and detailed design.

■ Color:
White + Yellow

■ Size:
M 8.5inches (h)224mm × (w)220mm
L 9.0inches (h)230mm × (w)230mm
LL 9.4inches (h)236mm × (w)240mm

■ Material:
Body - Chrome-free cowhide (0.7 mm, white)
Palm - Leather reinforcement (0.8 to 0.9 mm, yellow)
Wrist - Moisture absorbent, fast-drying pile rubber (white)
bio531-DS Fast Roping/Rappelling Gloves
Suggested retail price 5,800YEN
 →  Selling price

4,060

YEN(without tax)

(Price including tax 4,466YEN)
<Precautions for Use>
This product is developed exclusively for fast roping and rappelling.
Please do not use it for other purposes.
Since natural leather is partially used, thickness and hardness are not consistent.
Cracks and abrasion gradually develop after use. Early replacement with new gloves is recommended to ensure safety.
If you use or leave the product wet for a long time, it may accelerate the product's quality deterioration. Please use the product dry as much as possible. If the product gets wet in bad weather or in marine operations, dry it in the shade as soon as possible after use.
While we make every effort to provide safe and durable products, we will not be liable to you for any damage arising out of the use or inability to use the product.
Please carefully check if there is any damage to the product before use.





Chrome-free and highly stretchy cowhide used for the body of the product. A strong cowhide patch applied to the palm reduces friction heat.

For the base material, soft, stretchy white chrome-free cowhide (0.7 mm) is used.
For the reinforcement on the palm, friction-resistant yellow cowhide (0.8 to 0.9 mm), which provides a superb fit, is used. Operability is significantly enhanced via our patented manufacturing process and detailed design.

■ Color:
White + Yellow

■ Size:
M 8.5inches (h)219mm × (w)220mm
L 9.0inches (h)225mm × (w)230mm
LL 9.4inches (h)231mm × (w)240mm

■ Material:
Body - Chrome-free cowhide (0.7 mm, white)
Palm - Leather reinforcement (0.8 to 0.9 mm, yellow)
Wrist - Moisture absorbent, fast-drying pile rubber (white)



bio902 Descending Gloves for Rescue Crews
Selling price

0

YEN(without tax)

(Price including tax 0YEN)
Three-layer structure to protect the hands from friction heat. The reinforcement leather at the fingertips, the most frequently used section, is changed to improve workability. 。



■ Color:
Black + Red + Gray

■ Size:
M 8.5inches (h)235mm × (w)220mm
L 9.1inches (h)241mm × (w)235mm
LL 10.0inches (h)247mm × (w)250mm
3L 10.5inches (h)253mm × (w)265mm

■ Material:
Palm side / Microfiber 0.8 mm (black) + Chrome-reinforced cow leather 1.3–1.5 mm (grey ) +
Inner materia / Para-aramid fiber  +
Back of the hand of the main part: two-way knit (red) + Reinforced chrome cow leather at fingertips (thumb, index finger, middle finger/grey) 0.7–0.8 mm +

Wrist / Cotton pile-knit rubber  (black)
bio Air Rescue R-2 Protector for Guide Ropes (slip-on, over gloves)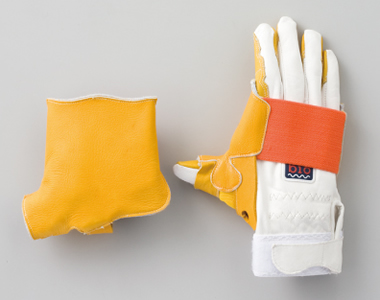 One hand
Suggested retail price 2,700YEN
 →  Selling price

1,890

YEN(without tax)

(Price including tax 2,079YEN)
Both hands
Suggested retail price 5,400YEN
 →  Selling price

3,780

YEN(without tax)

(Price including tax 4,158YEN)
<Precautions for Use>
This product is developed exclusively for fast roping and rappelling.
Please do not use it for other purposes.
Since natural leather is partially used, thickness and hardness are not consistent.
Cracks and abrasion gradually develop after use. Early replacement with new gloves is recommended to ensure safety.
If you use or leave the product wet for a long time, it may accelerate the product's quality deterioration. Please use the product dry as much as possible. If the product gets wet in bad weather or in marine operations, dry it in the shade as soon as possible after use.
While we make every effort to provide safe and durable products, we will not be liable to you for any damage arising out of the use or inability to use the product.
Please carefully check if there is any damage to the product before use.




Simple support gloves for securing guide ropes during rescue activities

Ground crews need to support a guide rope to ensure the safety of a rescue stretcher when lifting up a victim from the ground during an advanced rescue operation (involving rescue helicopters). Yet, gloves that are too thick get in the way of rescue operations. This protector can be quickly put on and taken off. It is an unconventional and unique protector.

This item helps quick rescue operations and improves the safety of crews by protecting them from being burned from abrasion.

■ Color:
White + Yellow
■ Size:
F (h)110mm × (w)230~270mm
■ Material:
Surface / Cow leather 1.3–1.5 mm (yellow)
Backside / Cow split leather 1.2–1.4 mm (grey )
Back of hand / Pile-knit rubber (orange)
*With a carabiner hole