Products - Anti-vibration SUPER GLOVE (ISO and new JIS certified)

SUPER GLOVE 103-08 Anti-vibration Super Gloves
Selling price

0

YEN(without tax)

(Price including tax 0YEN)
■ Color: Black + Gray
■ Size:
M(h)260mm×(w)120mm
L (h)270mm×(w)130mm
■ Material:
<Outer shell fabric>
Body: Top grain cowhide leather made in Japan +
Sleeve: Cow split hide
<Inner material>
Special shock-absorbing foam rubber + Bamboo-charcoal fibers (with sweat and odor absorption)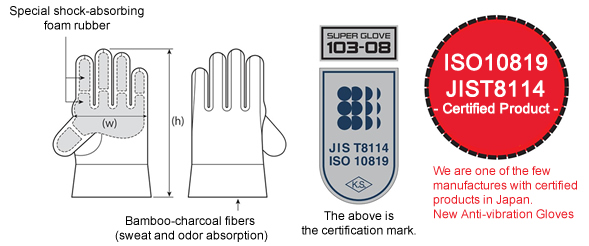 The curved three-dimensional sewing makes it easier to grip and reduce hand fatigue.

■ Application and Features

These are gloves to reduce vibrations transmitted to the hands of operators via tools and machines in the following industries: Mining (rock drill, grinder), forestry (chain saw, brush cutter), agriculture, construction, and manufacturing.

■ Anti-vibration Performance Evaluation Test

Anti-vibration performance
reference value
103-08 Vibration Transmissibility
(average)
TRM: Middle range (M) <1.0
TR

M

=0.905
TRH: High range (H) <0.6
TR

H

=0.486


Measured by the National Institute of Occupational Safety and Health, Japan

Based on ISO 10819 and new JIS T8114 "machine vibration and impact - hand and arm vibration - how to measure and evaluate the vibration transmissibility to the gloved hands," the product was evaluated. It successfully passed the test as its middle (M) and high (H) range values were less than the reference values.

* The gloves are designed to reduce vibrations, not to eliminate the risk of exposure to vibrations. It is recommended that you should not engage in work involving vibrations if you think you are not in good shape in light of your physical conditions, heat retaining conditions in the field, and working hours.