Products - Canvas leggings and gloves for pump operation competitions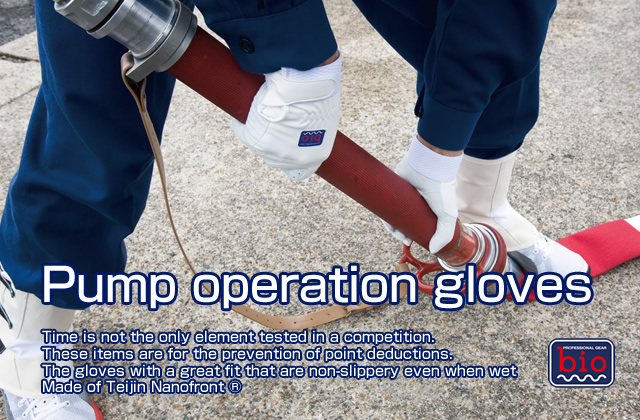 Introducing a new item for pump operation competitions and practices for the competitions with improved grip realized by Teijin Nanofront®, a great fit that compares with chamois leather, superb durability, and a non-slippery feature even when wet
bio-550 Fire Fighters' Pump Operation Competition Gloves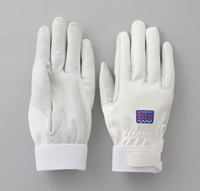 Suggested retail price 3,550YEN
 →  Selling price

2,480

YEN(without tax)

(Price including tax 2,728YEN)
■Color: White / Ice White
■Size:
M (h)225mm×(w)220mm
L (h)233mm×(w)230mm
LL (h)241mm×(w)240mm
■Material:
Palm side/ Nanofront® (polyester)
Back of hand/ PU
Wrist/ Sweat absorbing and quick-dry, diamond-shaped wristband
*Finger gussets/ Small wristband with a ventilation hole and carabiner hole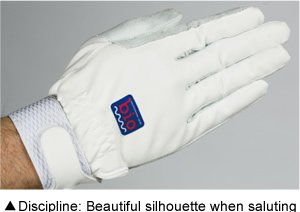 ■ Characteristics of gloves made of Teijin ® Nanofront ®

The nano-size irregularity on the surface of the ultra-fine polyester fiber produces the non-slippery feature and a strong grip. The gloves are washable and remain non-slippery even when wet. The fabric is well ventilated and reduces sweat inside.

The unique cut provides a great fit and beautifully shows salutes.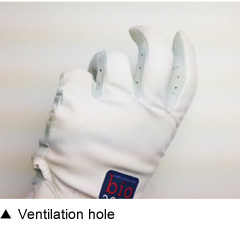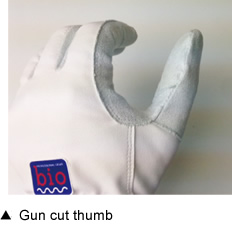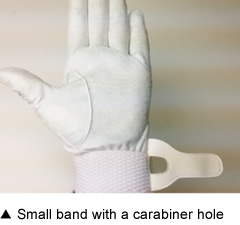 Fire brigade competition goods that support passionate teams working toward a national championship
Competition on speed and discipline, which is one of the important rating criteria. The significantly reduced weight and the use of stretchy materials and non-slip tapes help achieve both speed and disciplined beauty.
Two types of innovative leggings tailored to fire pump operations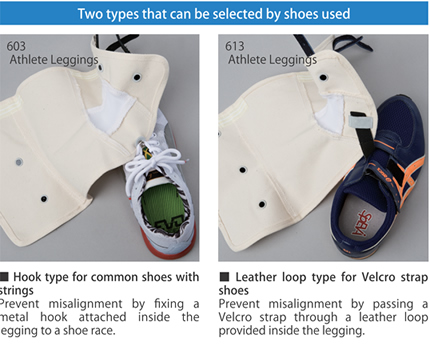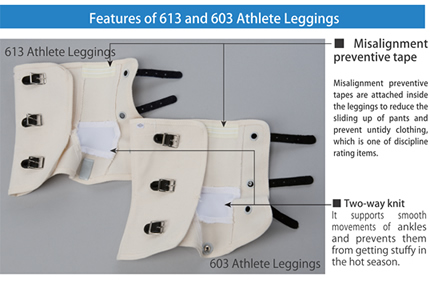 603 Athlete Leggings for Common Shoes with Strings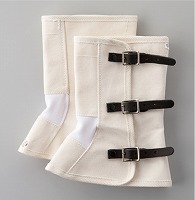 bio-603 Athlete L
Suggested retail price 3,420YEN
 > Selling price

2,390

YEN(without tax)

(Price including tax 2,629YEN)
bio-603 Athlete LL
Suggested retail price 3,630YEN
 > Selling price

2,540

YEN(without tax)

(Price including tax 2,794YEN)
bio-603 Athlete L (a set of 12 pairs)
Suggested retail price 36,880YEN
 > Selling price

25,812

YEN(without tax)

(Price including tax 28,393YEN)
bio-603 Athlete LL (a set of 12 pairs)
Suggested retail price 39,190YEN
 > Selling price

27,432

YEN(without tax)

(Price including tax 30,175YEN)
■ Color: White
■ Size: L, LL (see diagram below)
■ Material: Body - Cloth + Cowhide Belts
613 Athlete Leggings for ASICS shoes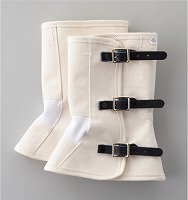 613 Athlete Leggings for ASICS shoes L
Suggested retail price 3,780YEN
 > Selling price

2,640

YEN(without tax)

(Price including tax 2,904YEN)
613 Athlete Leggings for ASICS shoes LL
Suggested retail price 3,990YEN
 > Selling price

2,790

YEN(without tax)

(Price including tax 3,069YEN)
613 Athlete Leggings for ASICS shoes L (a set of 12 pairs)
Suggested retail price 40,740YEN
 > Selling price

28,512

YEN(without tax)

(Price including tax 31,363YEN)
613 Athlete Leggings for ASICS shoes LL (a set of 12 pairs)
Suggested retail price 43,050YEN
 > Selling price

30,132

YEN(without tax)

(Price including tax 33,145YEN)
■ Color: White
■ Size: L, LL (see diagram below)
■ Material: Body - Cloth + Cowhide Belts